Keep scrolling down for the latest updates as well as what eyewitnesses are saying about what happened!
On Wednesday morning between 12:30am and 1:00am, Testudo, an iconic symbol at the University of Maryland campus, was set on fire in front of McKeldin Library. There are no details on how this fire started or who may have been on the scene at the time of the fire. The pictures above were taken after the fire was put out.
Thank you to @BriannaBytes for the tip.
UPDATE: Rumors have surfaced on Twitter that the fire was started accidentally by candles which were lit around Testudo. Others have also speculated that there were smokers around Testudo when the fire started but there is no direct concrete connection between the smokers and the fire.
"whoever lit testudo on fire has a guaranteed F in all their classes SMH"  – @alymeyerr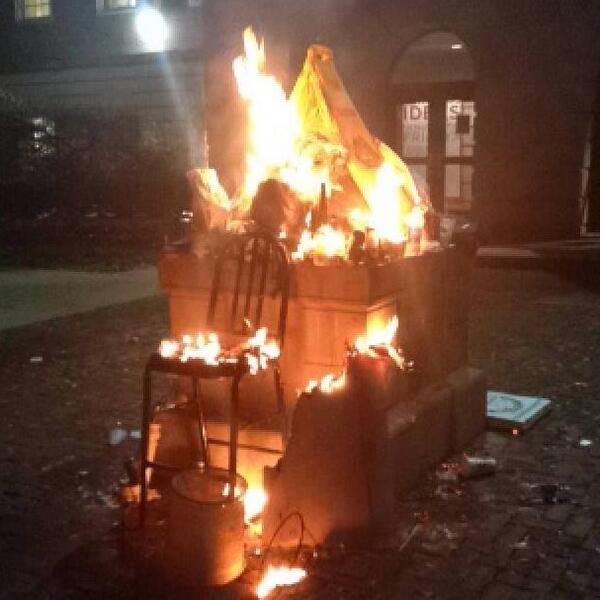 "The fire in front of Testudo tonight. The UMD tradition of finals offerings has officially gone too far" – @MarParNews
"If you didn't like testudo that much you could have just gone to Duke…#notcool #mylittleguy" – @mackcut
"So somebody set testudo on fire…. Now he's covered in dust and being investigated by the police" – @notMaryKate
"Started off good #umd #testudo" – @Bri_Low
UPDATE: #Testudo is currently TRENDING in the United States on Twitter as of 1:59am.
UPDATE: Now trending WORLDWIDE on Twitter
ANOTHER UPDATE: We have a first hand account which was just tweeted to us.
I then asked what the reasoning might've been behind intentionally setting a fire near Testudo and here is his response.
YUP, ANOTHER UPDATE: A popular Facebook account among UMD students, Maryland Compliments, has requested UMD students to make the best out of this situation.
UPDATE 7:42am – Here's a photo of trash being cleaned up at Testudo courtesy of @TheFrenchyze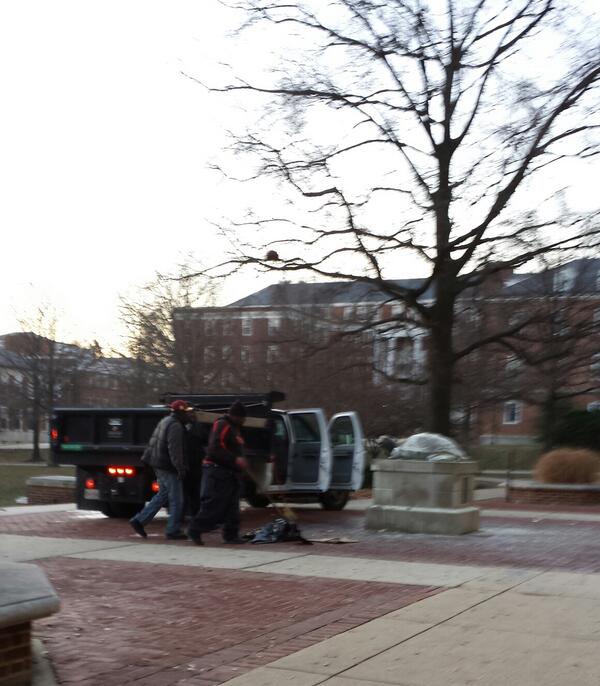 We also have another recollection of what happened from another eyewitness (@jake_tuthill) which matches what we were told earlier, as seen above:
About Testudo, the guys didn't try to set him on fire, they had a lampshade burning on a chair and it caught on all the trash/cardboard pope
UPDATE 7:52am – The Diamondback's sports editor, @danieljtgallen, has posted an updated picture on the cleanup happening at Testudo. The turtle is STILL standing strong.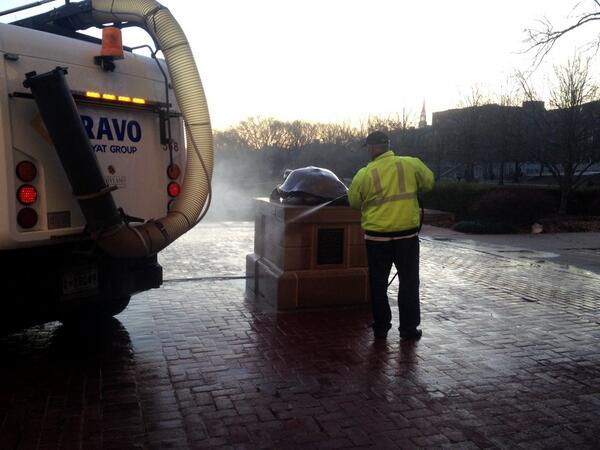 FINAL UPDATE 8:52am – The President has spoken.