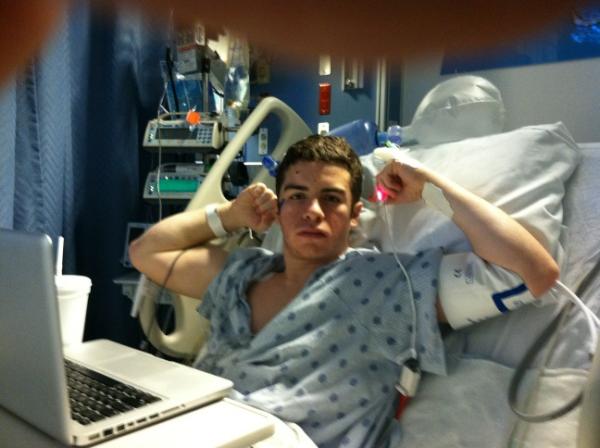 by Jessie Karangu
Viral sensation Zachary Lederer, 20, passed away Tuesday night after fighting a long bout with cancer. Lederer was well-known as a former student manager for the Maryland men's basketball team.
His signature pose, two arms stretched out making a muscle, made him a worldwide superstar. Lederer had just come out of surgery removing tumors from his brain when his trendy symbol of strength was captured for the world to see.
Mr. Lederer beat cancer as a child at 11 years old before it came back in 2012 forcing him to take a break from classes in the middle of his freshman year.
A campaign was started in his honor, Zaching Against Cancer, to provide support for cancer patients.
Students held a candlelight vigil in Mr. Lederer's memory in front of the Comcast Center.
At the vigil, I asked five random people what life lesson they'll take away from Mr. Lederer.
"Strength. His strength. It takes incredible strength, even when he was first diagnosed as an 11-year-old, to get through what he got through. And to stay positive. If I could even have half the strength that he had it would be great." – Katie Judd, freshman, family friend who has known Zach since elementary school
"Positivity. Fun-loving. He was full of life and that's what I want. I hope I can live up to the expectations he had for me." – Dylan Manning, senior, met Zach his freshman year
"He always seemed like he was living life to the fullest no matter what he was going through. Just soak it all in. No matter what you're really going through, life is a beautiful thing and you can do some beautiful things in your life. You can really inspire some people and that's what Zach did throughout his whole life. I'm never going to forget that." – Paul Pierre-Louis, junior who hung out with Zach during his chemotherapy treatments
"His approach to life, he just lived like nobody was watching. Everyday was such a great day for him regardless of what was going on with his condition. At basketball practice, in school, he always had a smile on his face. He never let anything get him down. He inspired everyone to really reconsider what we complain about and what we consider to be a bad day. He put everything into perspective." – Benjamin "Schafer" Eidelberg, junior, Zach would always call him "Schafer" and it wasn't until recently that Zach's parents realized his name really wasn't "Schafer" 
"Just a fighter. No matter what he was going through, no matter what problems he was facing, he was always optimistic about everything." – Keith Owens, senior who managed the men's basketball team alongside Zach.
Here are some pictures from Tuesday night's candlelight vigil.
What life lessons will YOU take from Zachary Lederer. Please leave a comment below.
R.I.P. Zachary Lederer. Thank you for the inspiration you have given to the world.