Being on a campus of thousands can be overwhelming sometimes. It's hard to stay aware of everything happening on campus throughout the week which is why we're here to help!
If you want your event to be included, please tweet us @pulsefeedz.
Michael Sam: In The Spotlight
When? Monday at 12:30 p.m.
Where? Eaton Theater, Knight Hall
What? A panel discussion on what effect Michael Sam's public statement of sexuality will have on sports.
Why Should I Go? Kevin Blackistone, a professor at UMD and a panelist on ESPN, will be there. You might get to meet and discuss a serious issue with a TV star (Dave Zirin, Brig Owens and Nicholas Sakurai will also be in attendance)
Fast Food Nation Screening
When? Wednesday 6 p.m. – 8:30 p.m.
Where? Francis Scott Key 0106
What? A movie screening/panel discussion of a critically acclaimed theatrical feature about the environmental consequences of fast food in the United States.
Why? It's a topic which affects UMD students each and every day. If you're at STAMP, are you more likely to get Chick-fil-A or a salad?
UMD Jazz Concert
When? Tuesday at 7:30 p.m.
Where? CSPAC
What? UMD jazz students performing in a spring concert
Why? Jazz is cool and smooth for the soul.
INDEFYNABLE
When? Tuesday 12 p.m. – 4 p.m.
Where? Hornbake Library
What? A celebration of Asian American culture resisting stereotypes and injustice.
Why? Diversity rules! Why not celebrate it?
The Vagina Monologues
When? Thursday and Friday at 7 p.m.
Where? Ulrich Recital Hall in Tawes Hall
What? A series of speakers giving monologues to raise awareness about sexual violence against women as well as what their vagina means to them.
Why? Who says no to vagina? (Just a joke, in a non-offensive way)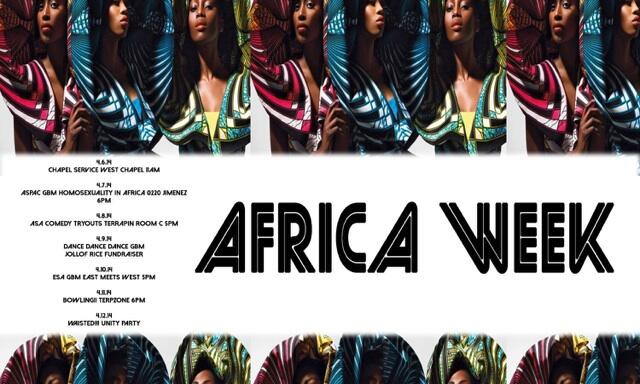 Africa Week
When? All throughout the week
Where? All over campus
What? A series of events promoting the African culture in anticipation of UMD ASA's spring show on May 10th. (Click on the picture for more information on specific dates and locations)
Why? Because you'll be a foolish goat if you're not there. Don't dull.
Terpstock Music Festival
When? Sunday at 4 p.m.
Where? Nyumburu Amphitheater
What? An outdoor music festival which is free and non-ticketed!
Why? Did you not read that it's FREE!!! What else could you be doing on a Sunday?