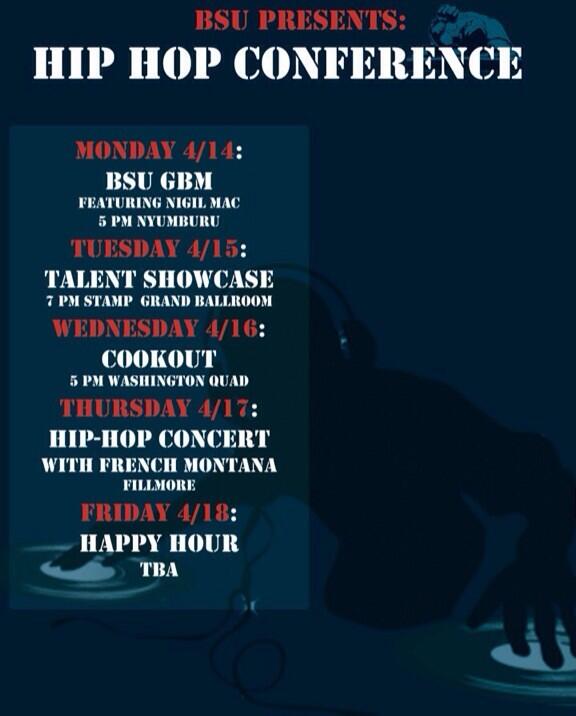 UMD Hip Hop Conference Week
When? Throughout the week (click on the picture above)
Where? All over campus
Why Should I Go? It's the biggest celebration of hip-hop culture which this campus has throughout the whole year. For more details follow @BlackTerp on Twitter.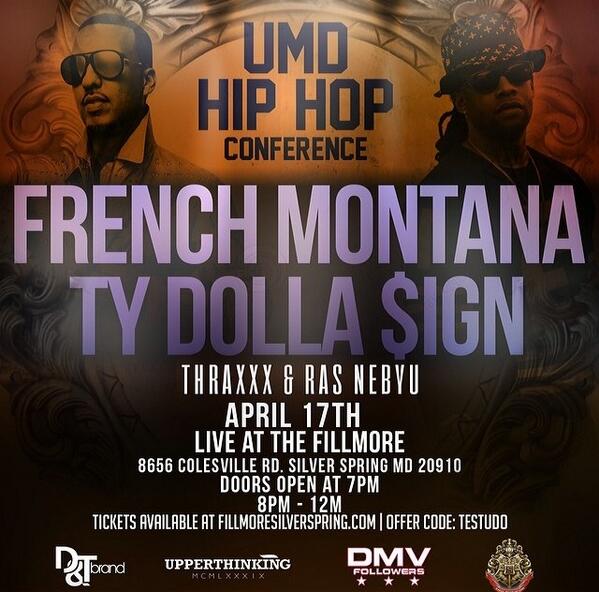 UMD Hip Hop Conference Concert
When? Thursday, April 17th at 8 p.m.
Where? The Fillmore – Silver Spring
Why? Two of the biggest upcoming hip-hop artists will be performing for a University of Maryland crowd. There may also be a possible Khloe Kardashian sighting if the rumors that she's dating French Montana are valid.
The Wolf of Wall Street Screening
When? Wednesday and Thursday at 7 p.m.
Where? Hoff Theatre
Why? It's an Oscar-nominated movie of epic proportions according to many film critics and avid movie watchers. This is your chance to watch the film LEGALLY for free on a big screen!
Stress Less Carnival
When? Thursday at 10 a.m.
Where? McKeldin Mall
Why? There will probably be plenty of free stuff and a bunch of cool people. Did I mention that there will probably be plenty of FREE stuff??
Pick the 2014 Homecoming Logo
When? NOW
Where? Online.
Why? You don't have to "Think B1G" to vote, it's really easy to complete and takes less than a minute.
Perceptions of African American Athletes In Media
When? Thursday at 5:30 p.m.
Where? Art-Sociology Bldg.
Why? It's an important discussion to have. How did you perceive Richard Sherman when you heard him spew out his rant in the NFC Championship Game? That perception, whatever it was, has the potential to not only affect Sherman but millions of black men everywhere and how they're perceived in society.
North Campus GreenFest
When? Thursday at 4 p.m.
Where? Denton Community Quad
Why? You get to learn how to live a healthy, sustainable lifestyle while eating free food and listening to live music. And who says no to free food? Check out their Facebook event page for more info.
Terrapin Baseball
When? Wednesday at 3 p.m. vs. Navy, Friday at 6:30 p.m. vs. Georgia Tech
Where? Shipley Field at Bob "Turtle" Smith Stadium
Why? On Wednesday, we're playing men of honor while on Friday, the game is targeted for greeks (The fraternity/sorority with highest attendance will win a postgame home run derby). Oh…….and it's FREE for all students.