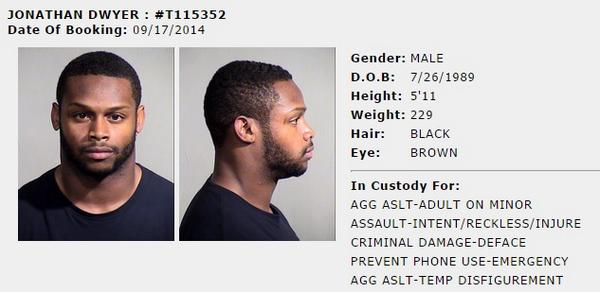 Jonathan Dwyer is extremely foolish.
The Arizona Cardinals running back has been arrested after allegedly assaulting his wife and breaking some of her bones in the process.
Dwyer allegedly assaulted his wife on July 21st and July 22nd at their Phoenix home, according to police. Authorities were made aware of the situation on September 11th and have been conducting interviews, looking at medical records and investigating the matter at hand.
Dwyer denies all of the accusations being made but that hasn't stopped the Arizona Cardinals from deactivating him from their team until further notice. Dwyer's wife has since left the state with their kid, who was also allegedly assaulted after Dwyer threw a shoe which hit the child.
Separately, Greg Hardy of the Panthers took a leave of absence while his own respective domestic violence dispute is being settled. The NFL Player's Association also decided to appeal Ray Rice's indefinite suspension which was handed down by NFL commissioner Roger Goodell.
Source: TMZ Sports