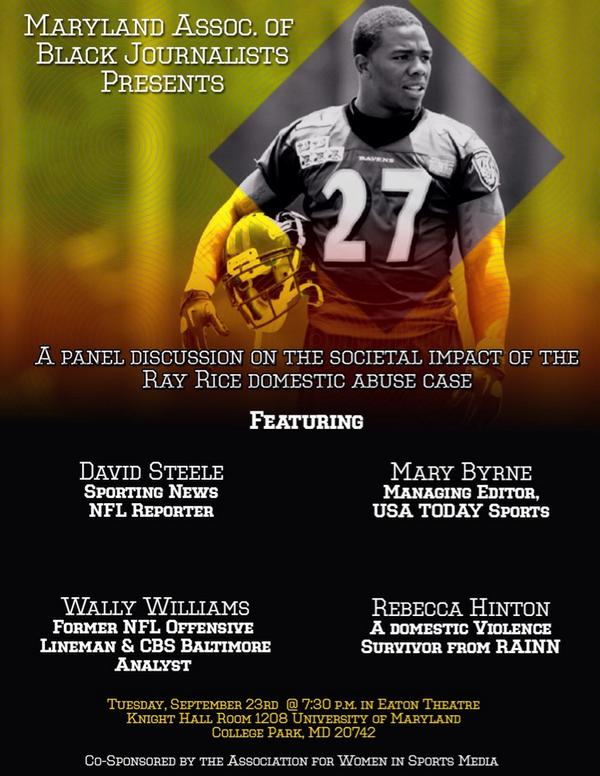 MABJ Presents Ray Rice Panel Discussion
When? Tuesday at 7:30 p.m.
Where? Eaton Theater at Knight Hall
Why Should I Go? Because it's important to hear from multiple perspectives of any story, especially something as big as the Ray Rice domestic abuse case.
(Disclosure: The writer of this guide is a member of this organization)
Alternative Break Meet and Greet 
When? Tuesday at 4 p.m.
Where? STAMP Atrium
Why? You get a chance to find out how you can make an impact on society during your break.
When? Wednesday 10 a.m. – 3 p.m.
Where? 3100 Hornbake Library
Why? Because you've gotta polish your interviewing skills if you want the job of your dreams!
Federal Job Search Fundamentals
When? Wednesday at 4 p.m.
Where? 3100 Hornbake Library
Why? Because this is an easy, simple and personal way to learn about how to find a federal job post-graduation OR a federal internship.
Macy's Employer Networking Session
When? Thursday at 6 p.m.
Where? Juan Jimenez Room, STAMP
Why? Because you're probably going to need a job during winter break.
SEE Presents Attack of the Backpack Concert
When? Thursday at 7 p.m. (doors open at 6:30 p.m., tickets are $8 w/ UMD ID and $15 without one)
Where? Ritchie Coliseum
Why? Because you won't be a badass like Joey Badass if you don't go.
College Park Day
When? Saturday 11 a.m. – 3 p.m.
Where? At the intersection of Paint Branch & Corporal Frank Scott Drive (5000 Paint Branch Parkway, College Park)
Why? Food from around the world will be available for purchase
———————————————————————
UMD ALL NITER – THIS FRIDAY
Here are the top events to go to (Full List of Events):
5. Echelon Fashion Society's Fashion Show – Check out some of UMD's finest modeling student creations. (Food Court, 7 p.m.)
4. Late Night Breakfast – Enjoy FREE FOOD! (Maryland Co-Op, 8:30 p.m.)
3. Side Show Acts – It's a circus…..except in college. You'll probably re-live your childhood and your fascination with contortionists, sword swallowers and other circus acts (Hoff Theater, 9:30 p.m. and 11:30 p.m.)
2. Step and Talent Showcase – Check out some of the most talented steppers, strollers and dancers on campus. (Nyumburu Amphitheater, 9 p.m. – 11:30 p.m.)
1. Late Night Party – Who wouldn't want to party until 3 a.m. on campus LEGALLY? (Grand Ballroom, Midnight – 3 a.m.)
EXTRA: FIFA 15 Tournament at TerpZone begins at 8 p.m. Sign-ups begin at 6 p.m.