Break a Yoga World Record
When? Monday at 6 p.m.
Where? Cole Field House
Why? Who doesn't want to be in the Guinness Book of World Records as a member of the largest human yoga chain? #TURNDOWNFORWHAT? Click HERE for more info.
"Controversy Over a Name:  Washington's NFL Team" 
When? Monday at 7 p.m.
Where? Eaton Theater at Knight Hall
Why Should I Go? You'll hear real expertise about this issue from experts who know what they're talking about.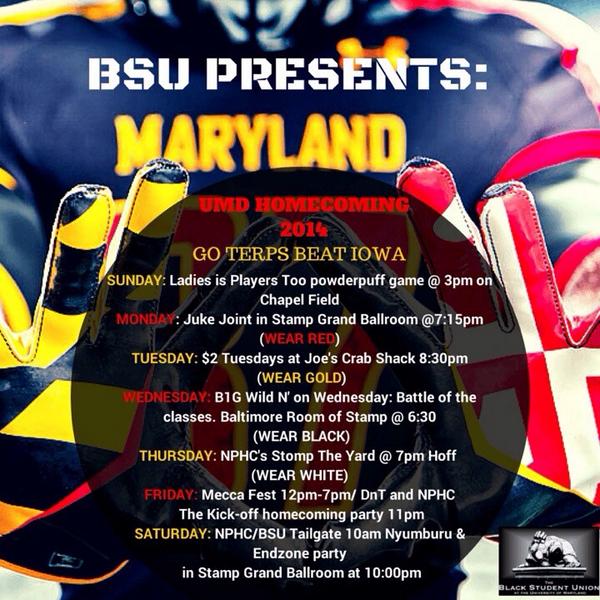 Homecoming Juke Joint
When? Monday at 7 p.m.
Where? Stamp Grand Ballroom
Why? It's the biggest talent show of the year on-campus.
Debate Watch Party
When? Monday at 7:30 p.m.
Where? Knight Hall, 3202
Why? You should get informed on the political stances of both candidates before you vote in November
Latino Monologues
When? Tuesday at 6 p.m.
Where? Prince George's Room in STAMP
Why? It'll be an artistic display of what it means to be Latino.
Outlawing Revenge Porn
When? Thursday at 6 p.m.
Where? Atrium at STAMP
Why? Learn about the consequences of sharing someone else's nudies without their permission. This is very important. Seriously.
When? All day Friday
Where? McKeldin Mall
Why? You'll be able to give your opinion on what new athletic traditions Terp Nation should add. This is your chance to speak your mind.
TERPUP for Gameday
When? Saturday at 10 a.m.
Where? LaPlata Beach
Why? Free face-painting, body paint, tattoos, music and a free t-shirt (if you're one of the first 50 people there)
Food Recovery Mission
When? Saturday 3:30 – 5 p.m.
Where? Byrd Stadium
Why? Transfer students will be collecting food which is unused by vendors and donating it to those in need. It's a simple but amazing way to give back to your community. Click HERE for more info.