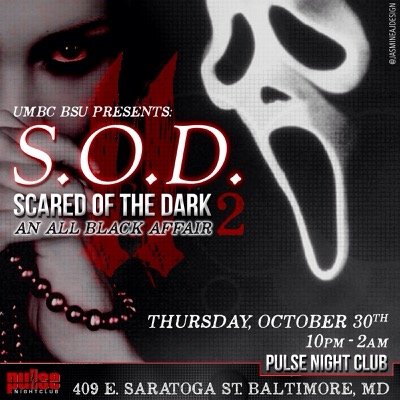 UMBC's Black Student Union has been pretty busy organizing student events such as a date auction, a cultural awareness seminar, a fundraiser and a potluck.
But none of those events will be as big as their annual Halloween party taking place tonight at Pulse Night Club in Baltimore.
We spoke to the organization's President, Ben Chukwurah, to get the scoop on the Halloween eve festivities. 
What's the purpose of this party?
The purpose of SOD 2 is to bring college students of all backgrounds together for the evening to enjoy what I've been referring to "good old fashioned fun." Can you remember how you felt at the first party you've ever been to? Everyone was dancing, the DJ was on point, and the only concern at hand was having a good time. Everyone there felt like one big family, free of judgement from anyone else. That's what we are re-creating.
Where is the money which you make going towards?
Money that we bring in from the event will be spent on buying Halloween candy for underprivileged kids in Baltimore City and for Thanksgiving food for the homeless.
How did this idea of an annual Halloween celebration transpire?
A part of the BSU board last year decided that we wanted to have an annual party for our organization. We happened to make that decision around Halloween time, so we wanted to do something that incorporated that into it.
After bouncing some ideas back and forth about a theme and title, we decided that Scared of the Dark (SOD) was catchy, and the all black theme was relevant to Halloween.
We struggled with solidifying a location for a while because we wanted revive a popular cantina that most older UMBC students remember being the Thursday move. Last year was a great success with limited time to promote, and I made sure that SOD would return again this year, even bigger and better.
This is not a costume party but if someone comes in with a costume, will they be denied entrance?
I've had some people ask me about that. You can wear whatever you feel comfortable wearing, but I can't guarantee you won't stick out. Unless that's what you are going for.
Black organizations at various campuses (and BSUs across this region in particular) have been criticized for solely being party planners and not doing much to help their student bodies. Your response?
I can't speak for all BSUs indefinitely but from my observations, there are BSUs making moves to inform the black communities on their respective campuses.
BSUs have the responsibility of congregating those of Africana descent and uplifting us all and I've seen programs implemented by other BSUs with the purpose of promoting awareness.
As for UMBC's BSU, we participate in community programs and service, host different events (ranging from the purpose of entertainment to awareness to fundraising). We do our best to unite the black community and even reach out to all students at UMBC. It's about the love of everyone of every culture.
Anyone who says all BSUs do is throw parties has selective attention towards BSU parties and probably doesn't show up for anything other than the turn ups.
INFORMATION YOU NEED TO KNOW
Tickets cost $5 for women, $10 for men before 11 p.m.
DJ Loso and 92Q's Dre Johnson will be DJ'ing the event
If you're interested in writing an honest, objective review of tonight's events, tweet us @pulsefeedz.