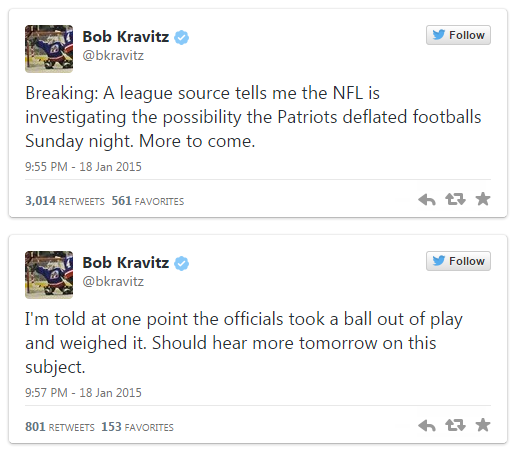 NFL insider Bob Kravitz dropped a major bombshell early Monday morning after revealing that the AFC Champion New England Patriots are under investigation by the league due to the possibility that the team deflated footballs during Sunday night's matchup against the Indianapolis Colts.
Kravitz was told that officials took a football out of play at one point and weighed it. If the investigation confirms that misconduct was committed, the team could face a lose in draft picks.
This is not the first time the team has been mired in controversy. In 2007, the team was disciplined by the league for videotaping signals from defensive coaches on the Jets' sidelines. Coach Bellichick was fined $500,000 while the Pats were fined $250,000 and lost their first round pick.
It's also not the first time a major controversy involving deflated ball, this one being framed as #DeFlateGate on Twitter, has occurred in recent history. In 2012, USC was "fined and reprimanded" by the Pac-12 Conference after a student manager was caught deflating footballs during the first half of a game against the Oregon Ducks.
Here is some of what the NFL's rules and regulations say about how footballs should be handled during the game:
The Referee shall be the sole judge as to whether all balls offered for play comply with these specifications. A pump is to be furnished by the home club, and the balls shall remain under the supervision of the Referee until they are delivered to the ball attendant just prior to the start of the game.
If this turns out to be as big as it sounds, then boy oh boy do we have a story which is going to pique more interest for this year's Super Bowl on February 1st.
UPDATE: Here is video from The Cauldron of referees pulling a ball out of play in the 3rd quarter.
2nd UPDATE: Here's an update of the story from ProFootballTalk:
Per a league source, the Patriots officially have been informed of the investigation, and the investigation will be thorough and transparent.  Consequences, if any, will come in the offseason, with a full explanation from the NFL as to what happened and why punishment was (or wasn't) imposed.

In this specific case, the investigation will focus on whether the balls were properly weighed and measured by officials before the game started, whether anything happened while the balls were in the custody of the referee, and whether anything happened after the balls were given by the referee to the ball attendant.

The ball attendant becomes a key figure in any investigation regarding ball inflation because the ball attendant is an employee not of the league but of the team.