by VERNA GIBSON
A hashtag created on Tumblr by user expect-the-greatest, who had the idea to celebrate black beauty with a day sharing selfies on social media, quickly moved throughout social media to make an impact unimagined.
Happy #BlackOutDay everyone✨🍫 pic.twitter.com/oQISLGdAfP

— Maya Angelique (@MayaAMonroe) March 6, 2015
My albino sister 😍 #BlackOutDay pic.twitter.com/ahY7XY4aWu

— JayFlossy (@STYLECORP_) March 7, 2015
my favorite #BlackOutDay post pic.twitter.com/25aSWy3miW

— ♡afropunk princess♡ (@radpunkies) March 7, 2015
Celebrities even joined in.
Let's keep #BlackOutDay trending! 🙂 pic.twitter.com/hS2tBTtt1p

— Russell Simmons (@UncleRUSH) March 6, 2015
#BlackOutDay pic.twitter.com/IE9cRmlBhD

— Amandla Stenberg (@amandlastenberg) March 6, 2015
The event was described by incogneeco to Chescaleigh, a youtuber and curator for Upworthy, as "a show of community and solidarity, for those 24 hours, we are exclusively posting and reblogging pics, gifs, videos, selfies, etc. of Black people. We want to show that Black History is happening today, right now. That we are all Black History."
expect-the-greatest says,
The event started on Tumblr late on March 6th as users in different time zones began posting as their clocks hit midnight.
This Twitter reverb shows #blackout was used over 160,000 times on March 6.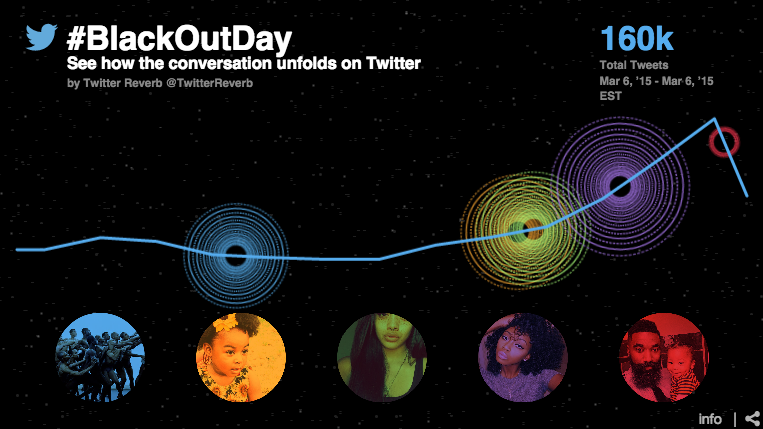 "I thought about the tag #BlackFriday, and making it a tradition on the first Friday of every month, because celebrating the beauty of Blackness is of the UTMOST importance," said expect-the-greatest. "I'm really sick and tired of seeing the 'European standard of beauty' prevail. It's past time for the beauty of Black people to be showcased. I love all people of color, but this here is for us."
There was an organized effort by some Tumblr users to spoil the day. Users compiled block lists of those who said they planned to ruin the tag by tagging irrelevant or explicit photos to spam the tag. The organizers advised users to ignore these trolls and not allow them to take away from the day.
Nukirk.digi.tal, a co-organizer with expect-the-greatest, said, "The day went better than expected. The results were expected. The surprise was the love for all shades."
He went on to say, "For one day at least, I'm not hearing about colorism. And I hope now it something that will start to go away."
He said he was also surprised by how many news outlets covered #BlackoutDay. The co-organizer never expected major news outlets like ABC News to pick up the story. Nukirk worked to create logos and spread the message on Twitter since expect-the-greatest only has a Tumblr. Nukirk called himself a "fan to the flames."