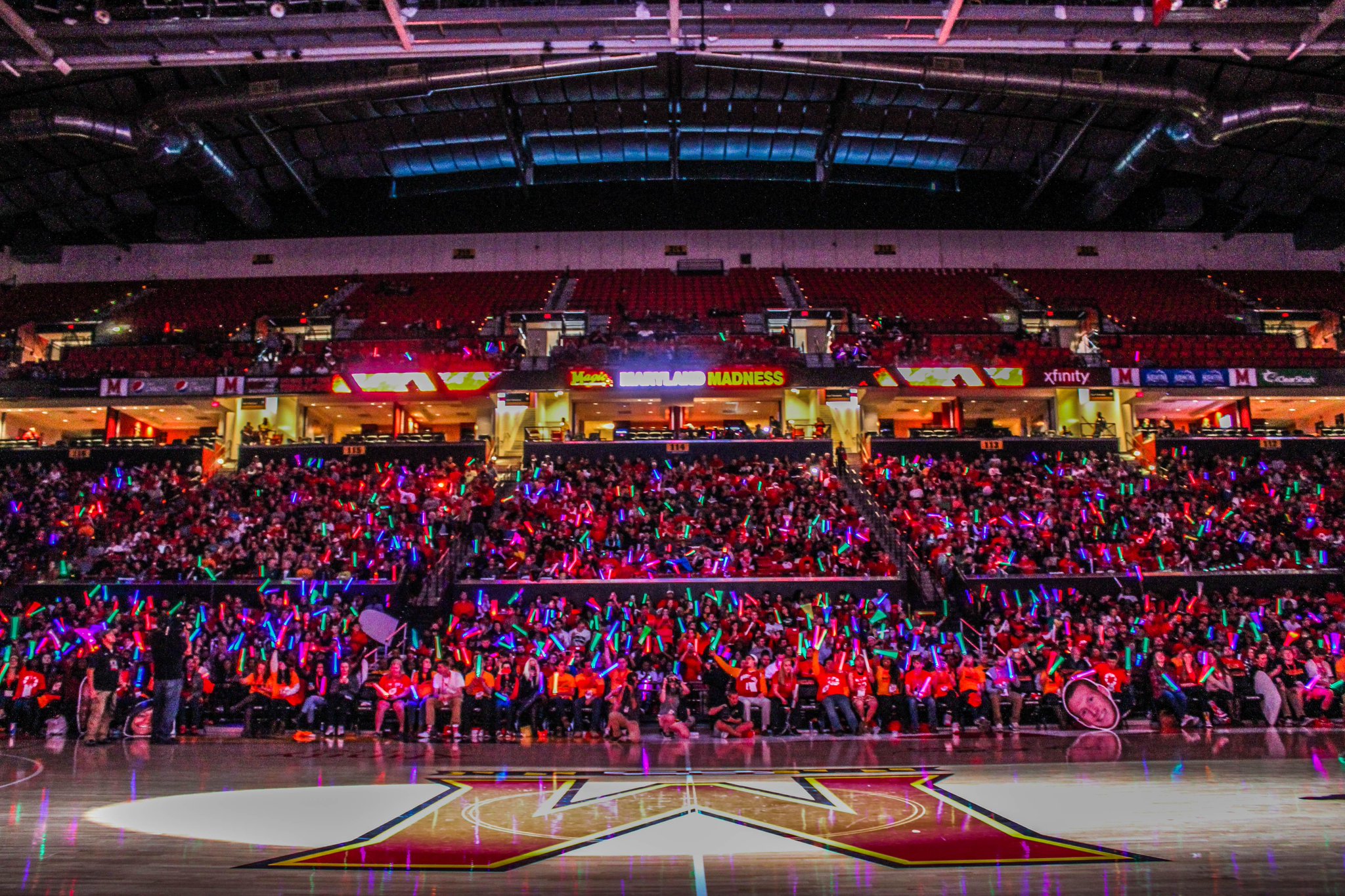 Maryland's long awaited basketball season came to an unofficial beginning tonight. Students and fans packed the stands of the Xfinity Center to get their first glimpse at this year's men's and women's teams. With most of the world expecting magic on the floor from Maryland basketball, the Terps gave the public a formal introduction with Magic Maryland Madness.
Maryland looked to set the tone early for their season with this event. Expectations are at a peak under the Mark Turgeon reign as season tickets have sold out.
"When I took the job, this is what I envisioned for Maryland Basketball," Turgeon said as he addressed the crowd. "Its a good feeling to know that a building this big is sold out for the season."
Magician JP Wilson opened the show with a magic show. While the magician has dazzled NBA crowds, he's no 2 Chainz. Other groups like the dance team performed as well, and with activities like a toddler dunk contest, it was a great atmosphere to kick off the season.
Both teams were introduced with their own hype music. Preseason Big Ten Player of the Year Melo Trimble was greeted by the crowd with an abundance of applause, only rivaled by Varun Ram's introduction from Maryland faithful. Much to the enjoyment of the crowd, both squads put on a dance routine featuring top-hats, capes, and Michal Cekovsky's arsenal of  "dance moves." After each player hit the quan, they took the floor for their scrimmages.
The crowd not only included current UMD students, but future ones such as recruits were also in the house, most notably number 27 recruit of the 2016 class Mario Kegler. Fellow class of 2016 commits Anthony Cowan and Kevin Huerter were also in attendance.
Not to be lost in the fun, however, is the pressures that come when Maryland has two talented teams that will take the court this winter. With the men's team coming off of a 28-win season and the women's team looking for its third straight Final Four appearance, so much anticipation surrounds the Terrapins this season. Both teams were picked to be conference champions.
In year five of his tenure as head coach, Mark Turgeon has assembled the best team that Maryland has seen in a long time.
"What makes this group so special is that these guys work hard," he said. "They're the most competitive group I've ever been around."
The Terps now have an arsenal of talent, big and small, and have to find the best way to utilize the talent that is on the roster. Returning talent like Melo Trimble, Jake Layman and Jared Nickens will have to find a way to jam with new faces like Robert Carter (now eligible after transferring the previous year), Diamond Stone and Rasheed Sulaimon.
"We run a system where these guys play unselfish," said Turgeon. "We have multiple ways we can score and we just have to find the right matchups to take advantage of."
"We've got a long way to go," he continued. "We're still building that chemistry."
With players like Trimble and Stone being absent for portions of the summer with USA Basketball and various other camps, the Terrapins will have extra work to do before they open regular season play on November 13 against in-state foe Mount St. Mary's.