During Monday Night Football's halftime, the heavily anticipated full-length trailer for Star Wars: The Force Awakens was revealed, causing a stir on the Internet and getting fans riled up for the seventh installment in the legendary series.
Being a huge Star Wars fan myself, I took to the internet soon after I watched the trailer during halftime of the Giants vs. Eagles game. I was curious to see other people's perspectives on the trailer and what fan theories people already created.
As I spent some time scrolling down the YouTube comments for the trailer, many fans already began asking questions, such as, "Where is Luke?" or "Who is Kylo Ren?" Some fans even theorized as to whether or not classic characters such as Han Solo would be killed off or not. The overwhelmingly positive response to the trailer was apparent throughout much of the comment section.
Aside from theories, what we know thus far is that the main characters appear to be Rey and Finn because of the extended screen time they received during the two and a half minute trailer. Rey, played by Daisy Ridley, appears to be a wanderer of the dessert planet, Jaku. When a woman's voice asks her who she is, Rey proclaims "I'm no one." However, this does not seem to be the case as she is the focus of the trailer.
The other prominent face seen throughout the trailer is Finn, played by John Boyega. Finn appears to be a soldier who has deserted the Empire and has "nothing to fight for." It seems he will be a primary character in the movie because he is seen wielding a blue lightsaber, signifying him to be a Jedi Knight (who is possibly still in training).
Perhaps Luke Skywalker, played by Mark Hamill, will be Finn's Jedi Master just as Yoda was once his, but this is just speculation. In addition, Luke did not receive any screen time during this trailer, but there was a cybernetic hand reaching out to touch R2-D2 in a quick pan, which could have been him. To refresh the memories of some more casual Star Wars fans, Luke got his hand cut off by Darth Vader in the VI installment.
Two other individuals we see throughout the trailer, to a lesser degree, are Kylo Ren, played by Adam Driver, and Poe Dameron, played by Oscar Isaac. Kylo Ren, is the new Sith, as we see him sporting a red lightsaber, which is very unique and unlike any other lightsaber we have seen in the past movies. Ren's motives are unclear, but we do know he is one of the leaders of the new Empire and he seems to be a collector of Sith artifacts because we see the destroyed helmet of Darth Vader next to him as he menacingly vows, "Nothing will stand in our way. I will finish…what you started."
Poe Dameron, a pilot, is seen wearing the iconic rebellion fighter colors of orange and white. We also see him being tortured by Kylo Ren for a quick moment in the trailer. However, nothing else is really known about him, including how he was captured (as appears to be his predicament) by Kylo Ren.
Some of the familiar characters we see returning in the trailer are Han Solo, played by Harrison Ford, and Princess Leia, played by Carrie Fisher. Han Solo seems to be a key character within the movie and might serve to give some sort of a history lesson of the previous events to the new characters. We see him telling Rey and Finn past events saying, "It's true, all of it." We also catch a glimpse of a distressed Leia being comforted by Han Solo, which might imply how much they have struggled with and lost in the past, as well as what else they might lose in this movie.
Tickets for the movie are already up for sale on some web sites. However, there have been multiple reports of sites crashing because of heavy traffic, which is not surprising at all.
Star Wars: The Force Awakens will be in theaters Dec. 18. Even though this is not too far off, I know many hardcore fans, like myself, cannot wait any longer. So, all I can offer are the reassuring words of Han Solo in dark times like these:
"You Hear Me, Baby? Hold together."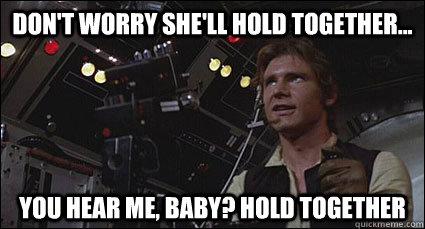 Did you miss the trailer on Monday? Or, do you just want to see it again and again…and again? Watch it below: